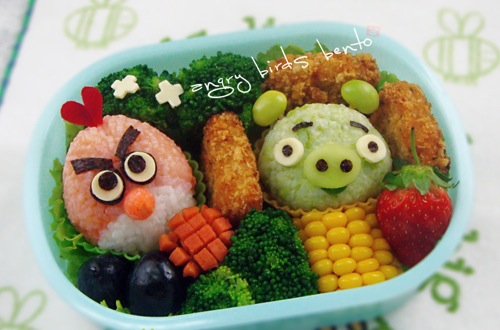 It's no secret that nutrition affects a child's school performance. Teachers have witnessed children falling asleep at their desks because they lack energy and can't concentrate. And when calories come from food that's high in sugar and fat, it can have an effect on kids' moods as well – not to mention their weight.
According to Livestrong.com, obesity in children can lead to sleeping problems, which in turn may impact their ability to learn. And just to underline how bad things have gotten, in 2011 Congress declared that pizza was a vegetable. Go figure! Parents and educators, it seems, are fighting an uphill battle.
Still, when it comes to turning kids on to healthy eating, it turns out we can all learn some interesting lessons from Japanese packed lunches.
10. Snowmen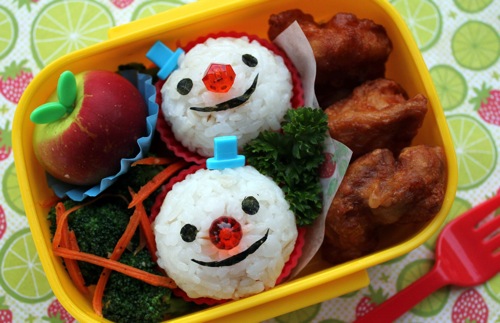 This visually appealing lunch – complete with adorable snowmen – is called a bento (or obento in Japan). Essentially, it's a lunch packed in a specially partitioned box, also known as a bento box.
According to website Kids Web Japan, in the Land of the Rising Sun packed lunches date from as far back as the fifth century, when people took dried rice with them when they went out to work in the fields, hunt, or even engage in warfare.
The concept morphed over the years, until carrying a bento lunch was considered essential to any excursion. And between 1603 and 1868 (the Edo period), people even took their packed bento meals with them to theater performances.
9. Super Mario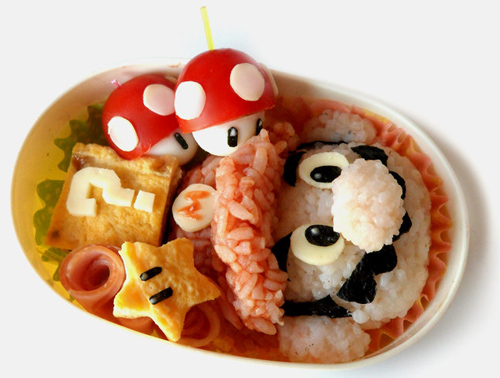 As you can see, it's not simply a matter of throwing leftovers into a box and hoping for the best. In fact, bento meals are said to signify the love whoever made them feels for the person for whom they're prepared.
In keeping with Japanese tradition, a well-packed bento should contain five different colors of food. And as we know, fruits and vegetables come in a huge array of colors, which makes them the perfect backbone of a good bento box.
The resulting creations are not only good to look at and delicious; they're quite healthy as well. According to Justbento.com's Makiko Itoh, switching to bento lunches helped her slim down by 30 pounds.
8. Tiger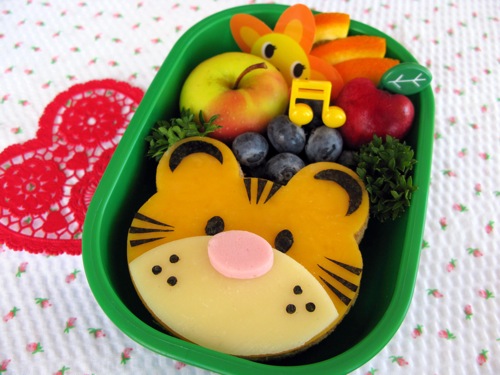 Aesthetics is an important cultural value in Japan. "Food presented attractively looks more appetizing, since we eat with our eyes as much as our taste buds and stomachs," says Itoh. "That's emphasized more in Japanese cuisine and culture perhaps."
Another advantage of creating these visually stunning renditions of cute animals, pop culture icons and other characters is that it can help to get fussy kids excited about food they wouldn't normally eat. Californian stay-at-home mom Sheri Chen says that she struggles to get her picky daughter to eat certain foods. But, says Chen, "If her boiled egg is shaped like a bunny and it is holding a baby carrot, she'll eat it."
7. Alvin and the Chipmunks
Parentingsquad.com's Alyssa Chirco says that kids are "more likely to eat a colorful and creatively designed lunch that is neatly packed with small portions of food in easy-to-open containers than a sandwich that's gotten mashed inside of a Ziploc."
But mothers in Japan seem to take it to another level. Japanese mom Tomomi Maruo told the BBC that she spends up to two hours making incredibly artistic bento lunches for her children, including portraits of Michael Jackson, Indiana Jones and Barack Obama.
"It's fun," she says, "I enjoy doing it and my kids enjoy." Still, not all mothers are as enthusiastic. In the same BBC feature, Japanese mom Yayoi Uemura confided that she feels a lot of pressure to make great-looking lunches for her kids.
6. Octopus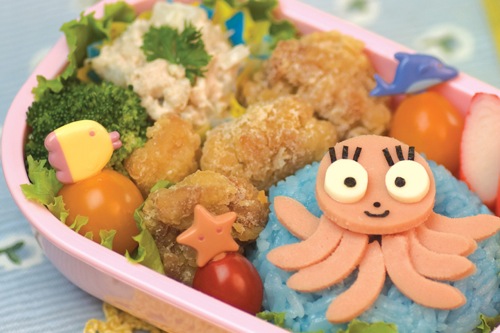 Makiko Ogawa, who created the blog Cuteobento.com, began making character-based bentos (known as kyaraben) to help her three-year-old son when he started kindergarten. The boy was finding the schooling transition hard to cope with, and Ogawa discovered that making cute character bentos, like the one she created above, made it easier for him to adjust.
Of course, some of you may be wondering why Japanese moms insist on making lunches when their kids could just eat at the school cafeteria. But in Japan, not all schools offer lunch, and in such cases, students are required to bring packed lunches with them.
Interestingly, in Japanese elementary schools, kids eat their lunches in the classroom with their teachers, who use the time to educate the students about nutrition, good eating and correct social behavior.
5. Corn Dog Mice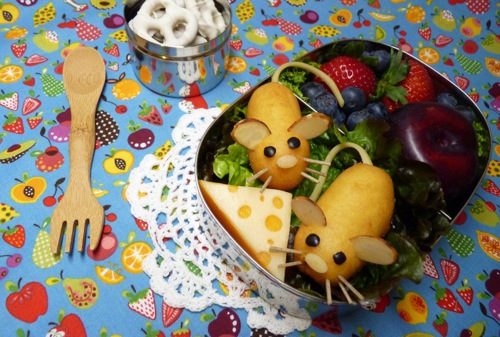 Let's face it. Given the choice between eating cafeteria gloop and the delightful corn dog mice pictured above, most of us would opt for the mice – especially when the cafeteria may be serving vegetables (a.k.a. pizza) and French fries as the "balanced" meal of the day.
And when it comes to school performance, undernourishment not only negatively affects children's concentration levels and learning capabilities; medical experts believe that poor eating habits can also impact on kids' general curiosity, energy levels and even social skills.
4. Bear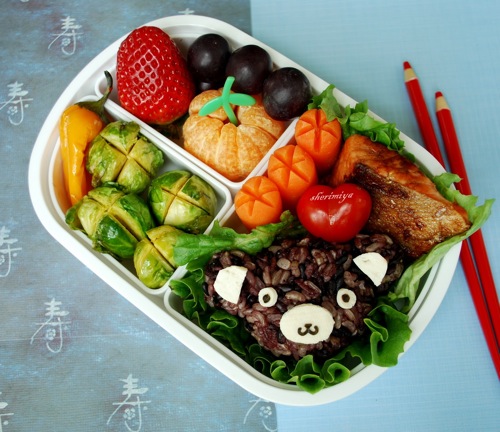 Examiner.com contributor Shanna Brooks reckons that bento boxes are a great way to introduce all those nutrient-rich foods back into a child's diet. After all, if their lunch looks so cool that they become the envy of all the other kids, they're a lot more likely to try eating Brussels sprouts!
Even school cafeterias that have successfully switched to healthier menus are finding the transition difficult, with nutritious foods deemed a "tough sell" for children. Healthier meals also tend to cost more, and students sometimes simply toss their veggie and fruit offerings in the trash.
3. Three Little Pigs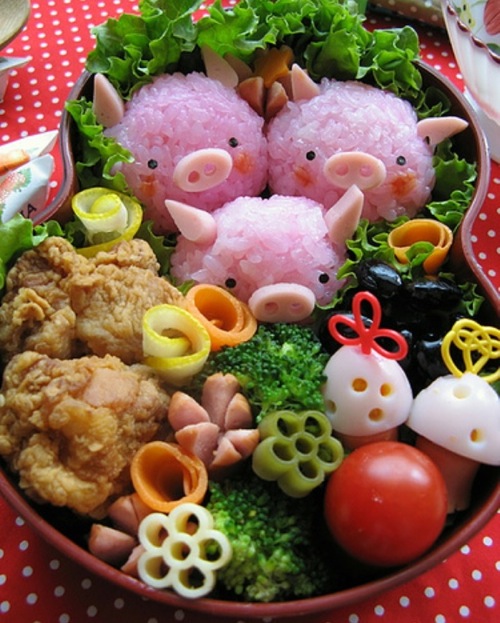 In October 2012, The New York Times reported that many students were dissatisfied with the changes made to their cafeteria menus. In some areas, the amount of students eating school lunches has dropped by 70 percent.
"Before, there was no taste and no flavor," said Malik Barrows, who is a senior at Automotive High School, Brooklyn. "Now there's no taste, no flavor and it's healthy, which makes it taste even worse."
With junk food available from school vending machines, educators are finding it pretty difficult to encourage kids to choose the cafeteria's new healthier options, even though it would be better for them on all fronts.
2. Totoro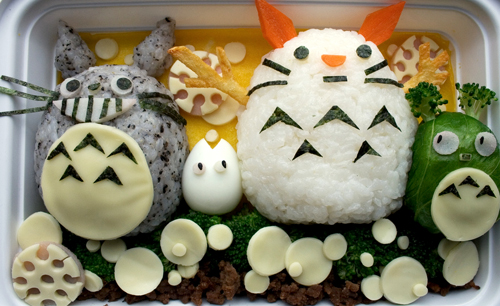 The answer could be an awesome nutritional, homemade lunch packed with love! Of course, bentos don't have to be quite as creative and time-consuming as those pictured in this article. Some people only spend 10 to 15 minutes on them. And the handy compartments of many boxes make it easy to add a variety of foods without creating an excessive mishmash of flavors.
The bento box helps parents and kids branch out from boring sandwiches while stimulating creativity and promoting better eating. "I am not a gourmet cook," Californian mom Sheri Chen told the New York Times. "But when you put anything in a bento box it looks nice."
1. Hello Kitty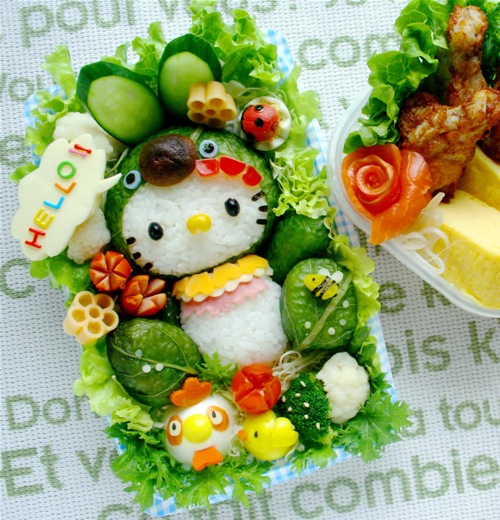 In a 2012 interview with The Globe and Mail, author Andrea Curtis, who wrote the book What's For Lunch: How Schoolchildren Eat Around the World, said that she's not about to make "a bento box with the face of Gene Simmons for my family." "That's a little over the top for me," she added. Besides, some low-income families can't afford to pack lunches for their kids and have no option but to settle for subsidized school meals.
In the same interview, Curtis suggested that we emphasize "food literacy," and that schools use lunch times to educate children about health and the environment. According to Curtis, even looking at pictures of food from other countries can be helpful, which naturally can include learning about what other children around the world eat for lunch.
"You can't help but understand something about the world when you see that kids in a refugee camp are getting a mug of porridge and in France they're getting a four-course meal," says Curtis. We couldn't agree more.