See our more recent selections of top education blogs.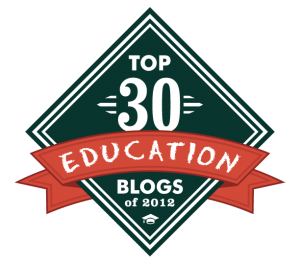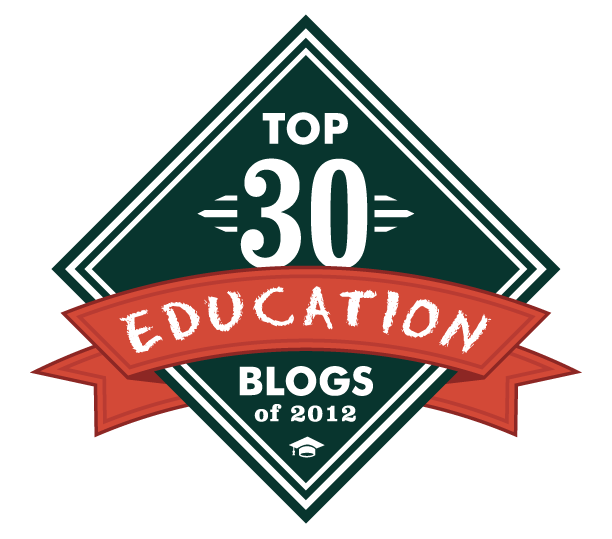 The field of education is constantly evolving, and teachers are expected to keep up with not only their formal education, but trends and topics relevant to their field.  Blogs are a great way to keep your knowledge of what's going on in the world of education in tip-top shape. To that end, we've assembled our choices for the Top 30 Education Blogs of 2012.  These blogs were chosen carefully after reviewing hundreds of education-themed blogs, and will be of value to anyone serving in the field of professional education. The categories are divided by level of education and/or subject matter.
Teaching at the College Level
1. The Teaching Professor: With a focus on today's higher education professional, this blog offers finessed guidance to those teaching in a collegiate setting.
Highlight: Defining Teaching Effectiveness
2. Busynessgirl: Originally starting off as Teaching College Math, this blog underwent a name change as it took on a more broad range of topics concerning the world of higher education.
Highlight: Level Up: Video Games for Learning Algebra
3. Confessions of a Community College Dean: Once a professor of cultural studies, this suburban father of two finds himself at the helm of an academic administration.
Highlight: The Forgotten Disciplines
4. Page View: The Chronicle of Higher Education presents a blog which provides news and notes on scholarly publishing.
Highlight: Mapping the Influence of University Presses
5. Social Media in Higher Education: Professor Rey Junco blogs about a subject he's passionate about: utilizing technology to engage today's college students.
Highlight: The Ethics of Facebook-Stalking University Applicants
Teaching at the High School Level
6. Confessions of a Prep School English Teacher: An anonymous 15 year veteran of teaching prep school English shares the joys and frustrations of instructing adolescents who pay a yearly tuition of almost $40K.
Highlight: Making Amends–Or, I Was That Student
7. Pedagogue Padawan: In Pedagogue Padawan, a Chicagoland physics teacher shares "reflections on learning to help others learn."
Highlight: Peer Instruction with NearPod and iPads
8. High School Matters Blog: The blog of the National High School Center at the American Institutes for Research provides educators with the most up to date research on topics like college prep.
Highlight: The Use of Individualized Learning Plans to Help Students to be College and Career Ready
9. Reflections of a High School Math Teacher: Math teacher David Sladkey combines personal experience and expert advice to provide his readers with a new vision for more effective math education.
Highlight: Having Your Students Set Goals
10. Science for All: With a goal of science literacy for all, this blog is an excellent starting point for science education resources.
Highlight: Practices of Science & Engineering- Obtaining, Evaluating, and Communicating Information
Teaching at the Middle School Level
11. Making it as a Middle School Teacher: Teaching middle school can be trying, but this blog gives teachers the tools they need to rise to the challenge.
Highlight: Having Fun in Your Classroom
12. The Classy Teacher: The Classy Teacher describes herself as "fairly new" to teaching middle school math and science.  Follow along as she shares her insights and tips about being a great teacher.
Highlight: The One With the Library
13. Teacher 2 Teacher: Providing high quality class room resources and research articles to anyone teaching K-12.
Highlight: A Successful Trip to the School Computer Lab
14. Caught in the Middle: The middle school grades are often overlooked in the timeline of K-12 education, but this colorful addition to the blogosphere is dedicated to making a student's middle school experience something to remember.
Highlight: From On-Task to Engaged
15. Lessons from the Middle: A constant stream of shared lesson plans and "freebies," this site is a welcome addition to any middle school teacher's blog subscription list.
Highlight: Trying to Combat Acts of Bullying with Acts of Kindness
Teaching at the Elementary School Level
16. Ms. Cassidy's Classroom Blog: Widely acknowledged as one of the best elementary school blogs, this contribution gives teachers the opportunity to better see through the eyes of their young students.
Highlight: Reading via Skype
17. Just a Substitute Teacher…: This interesting journal details the adventures of a substitute teacher. Follow him as he copes with the challenge of being a "for the day" teacher.
Highlight: Fifteen Subs…
18. Surviving a Teacher's Salary: A helpful guide with tips and advice on stretching your teaching salary to meet your financial needs.
Highlight: SEO, Social Media and WHAT?! The Life of a Blogger…
19. The 1:1 Classroom: Reflections on teaching in a 1:1 classroom from a 3rd grade teacher. This site focuses on giving students the attention they deserve.
Highlight: How Children Succeed
20. First Grade Blue Skies: First grade teacher and mother of three Jennifer keeps her blog updated frequently with timely projects to do with your elementary school class. After reading her visually appealing and colorful blog, it will make any reader want to go back to first grade.
Highlight: Letter Naming Fluency Idea
Teaching at the Kindergarten and Pre-K Level
21. PreKinders: Provides great resources for Pre-K teachers like printable posters and ideas for lesson themes.
Highlight: Exploring Science in Pre-K with Ramps
22. Chalk Talk: With fourteen years of teaching experience at the kindergarten level and a master's degree in curriculum and instruction, Mrs. Larremore is a fountain of knowledge when it comes to early childhood teaching.
Highlight: The Statue of Liberty
23. Kinder Latino: Bilingual teacher Lydia Barbosa shares the resources she has created in her 15 years of teaching kindergarten in a bilingual environment.
Highlight: Number Posters
24. Teach Preschool: A site dedicated to making sure that your young students are more than ready to take the step from preschool into kindergarten.
Highlight: How to make a simply amazing maze for play
25. Mrs. Will's Kindergarten : Mrs. Wills shares her weekly lesson plans and activities as inspiration for other teachers looking for new ideas or scheduling advice.
Highlight: Writing Work Station
Teaching Special Education
26. Special Education Strategies and More…: A place for teachers and parents with children with special needs to find emotional support and academic resources.
Highlight: Sight Word Writing
27. The Cooke Special Education Blog: The Cooke Center for Learning and Development faculty share their knowledge to improve the education experience for all students in special education.
Highlight: Yoga at Cooke Center Grammar School
28. Special Education Advisor: An aid for parents and teachers looking to formulate a child's IEP.
Highlight: Top Ten Things the Classroom Teacher Needs to Know About Your Child With Special Needs
29. Reality 101: The Council for Exceptional Children works with several special education teachers to provide a course supplement for your special education classes.
Highlight: Jerry: Zero-Tolerance Wouldn't Work in My Classroom
30. The Autism Helper: A well organized and visually appealing site providing resources, ideas, and materials to help you help children with autism excel.