By Melissa Maypole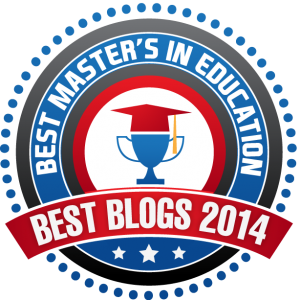 Teachers have always learned from one another, sharing experience, insight, and advise, but in today's rapidly changing pedagogical environment, it's more important than ever that teachers band together and adopt a growth mindset. One of the best ways to do this is to keep up with the top blogs in the education space where veteran, expert, and award-winning teachers share their knowledge and opinions. To aid in this effort, we've compiled a list of the top 30 blogs in education based on page rank, social shares, and reader engagement.
General Education
1. Psychology Today: Mindshift explores the changing landscape of education, including changing societal norms, emerging technology, and scientific research about learning.
Featured Post: Giving Good Praise to Girls: What Messages Stick?
2. Answer Sheet: The Washington Post's education blog explores the latest news, issues, and trends in the education space.
Featured Post: Common Core Calls for Kids to Read Books That 'Frustrate' Them. Is That a Good Idea?
3. Teacher Network: The Guardian's teaching blog provides educators of all grades and experience levels with professional development and expert resources.
Featured Post: Behind the Timetable: A Day in the Life of a Trainee Teacher
4. HuffPost Education: HuffPost Education is written by veteran social studies educator Alan Singer and addresses all areas of the teaching profession including policy, instructional strategies, and issues affecting the daily lives of teachers and students.
Featured Post: Japanese Educators Learn from American Teachers and Schools
5. The Innovative Educator: Lisa Nielsen's blog inspires teachers to reach reluctant learners through innovative teaching strategies. Featured Post: Fear is Not an Option When It Comes to Social Media in Schools
6. The Cool Cat Teacher: This award-winning blog written by teacher and author Vicki Davis will keep you organized, inspired, and on top of the latest trends and tricks in teaching and learning.
Featured Post: Fear is Not an Option When It Comes to Social Media in Schools
7. TeachThought : TeachThought provides K-20 educators with resources, support, thought leadership, and inspiration as they navigate a changing pedagogy in an increasingly connected world.
Featured Post: 101 Things I've Learned So Far in Teaching
8. The Hechinger Report: The Hechinger Report is a journalistic blog that exposes inequality in education and proposes innovative solutions for bridging the gap. Featured Post: What Urban Districts Need to Know to Get their English language Learners Up to Common Core Standards
9. Think Inclusive: Think Inclusive provides ideas, information, and resources to help teachers assist students with disabilities in mainstream learning environments.
Featured Post: Assistive Technology Increasing Inclusion in Classrooms and Beyond
10. Getting Smart: Getting Smart is a comprehensive education community assisting teachers in grades K-12 and beyond become more effective and better connected.
Featured Post: 6 Steps to Becoming a Highly Effecive Leader: Your Personal 'SWOT' Analysis
11. Education News: This blog's mission is to educate teachers on the latest news on educational policy and research.
Featured Post: Study: Digital Readers Don't Match Up to Real Paper
Elementary Education
12. Finding Common Ground: In this EdWeek blog, Peter DeWitt helps students and teachers find common ground as they strive to teach, learn, and grow together.
Featured Post: Student Voice: Do We Really Listen to Students?
13. Kevin's Meandering Mind : This blog offers tutorials, ideas, and support for the elementary school teacher. Featured Post: When Trust Gets Breached, Repairs May Be Impossible
14. Teach123: Teach 123 provides K-5 teachers with free resources and ideas to make learning engaging and fun for elementary school students.
Featured Post: Cooperative Learning Tips
15. Math Coach's Corner: Mindshift explores the changing landscape of education, including changing societal norms, emerging technology, and scientific research about learning.
Featured Post: Developing Fraction Number Sense
16. Math Coach's Corner: Mindshift explores the changing landscape of education, including changing societal norms, emerging technology, and scientific research about learning.
Featured Post: Developing Fraction Number Sense
Secondary Education
17. Middle Web: The middle grades can mark an especially difficult transition for students. This blog helps teachers of grades 4-8 reach kids where they are.
Featured Post: On the Fast Road to Academic Success
18. Life of an Educator: This blog features lots of great, quick reads on practical issues facing middle school teachers and students. Featured Post: 6 Things We Need to Stop Saying in #Education
19. The Learning Network: The New York Time's learning blog features lesson plans and interactive activities for students based on the publication's content.
Featured Post: Did You Ever Take a Break from Doing Something You Love?
20. Classroom Q&A With Larry Ferlazzoo: In this EdWeek blog, award-winning high school English and Social Studies teacher Larry Ferlazzo answers teachers' questions about lesson plans, classroom management, ELL instruction, and more.
Featured Post: 'Reinventing Writing': An Interview With Vicki Davis
21. Larry Ferlazzo's Websites of the Day : Well-known high school teacher and education guru Larry Ferlazzo compiles the best ELL, ESL, and EFL games, resources, and activities in this popular blog.
Featured Post: Jimmy Fallon Models Yet Another Good Game for English Language Learners
Higher Education
22. The Chronicle of Higher Education: Available by subscription only, The Chronicle of Higher Education features the most recent news and trends in the higher education space.
Featured Post: Academic Experts Lend Credibility to Bogus Claims of Ebola Cure
23. Psychology Today: Faculty focus provides college instructors with support, resources, and news on effective teaching strategies for online and offline courses.
Featured Post: Does Discussion Make a Difference?
24. Inside Higher Ed: Inside Higher Ed features the latest in news and opinions for undergraduate and graduate teachers, including teaching and learning trends, ideas, and resources.
Featured Post: The Digital Natives Are Restless
25. ProfHacker: ProfHacker helps university faculty members adopt effective teaching strategies, integrate technology in the curriculum, and become more productive.
Featured Post: Building Habits and Routines
EdTech
26. Educational Technology and Mobile Learning: If you want to stay up-to-date on the best technology hacks for the classroom, this is the blog to follow.
Featured Post: Excellent Resources on Evernote for Teachers
27. Tech & Learning: Tech & Learning is intended to be a comprehensive resource for educational technology leaders such as district-level technology coordinators, but is also a go-to blog for classroom teachers interested in integrating the most recent technology into their classrooms.
Featured Post: Video Tutorial: Google Sheets Tech Integration Project
28. Edudemic: Edudemic features guest bloggers from around the world who share practical classroom applications for the latest educational technology.
Featured Post: The Top 5 Blended and Flipped Classroom Tools
29. Dangerously Irrelevant: Written by leading educational technology leader Scott McLeod, Dangerously Irrelevant helps school leaders integrate emerging technology in their schools in ways that are relevant and meaningful to teaching and learning.
Featured Post: School Technology Is Neutered into Uselessness
30. Free Technology for Teachers: Richard Byrne curates the best free technology from around the world with practical applications for the classroom.
Featured Post: Freeplay Music—Another Good Place to Find Music for Multimedia Projects
About the Author
Melissa Maypole taught high school English and Advanced Composition in Aiken, SC for six years. She is currently working in online curriculum development and is also a prolific freelance writer. She earned her B.A. from the University of South Carolina-Aiken and holds a Masters degree in Education with a specialty in Integrating Technology in the Curriculum. You can find her on twitter: @MelissaMaypole.