Share this infographic on your site!
How Do You Teach Social Media Etiquette?
Who uses social media?
73% of online adults use social networking sites
○ age 65+: 43%
■ Only 5% use Twitter
○ 54-64 year olds: 60%
■ 13% use Twitter
○ 30-49 year olds: 78%
■ 17% use Twitter
○ 18-29 year olds: 89%
■ 30% use Twitter
Social Media 101
Facebook – 1.26 BILLION users
◦ Main purpose -Connecting with friends and family
Sharing pics and videos
• Twitter – 241 MILLION users
◦ Main purpose -Connecting with friends, like-minded colleagues and collaborators
• LinkedIn – 187 MILLION users
◦ Main purpose -Building a network of professionals in and out of your field
• YouTube – 1 BILLION users
◦ Main purpose -Create, share and discover original videos created by original people
• SnapChat – 30 MILLION users
◦ Main purpose -Share self-destructing photos, videos and text with your friends
So Facebook is your media of choice…
Here are some tips for interacting without getting blocked!
• Do be careful with your identity
◦ Never share personal information on social media sites.
• Don't befriend anyone and everyone
◦ If you don't know someone, chances are, they're not after your friendship.
• Do act your age
◦ Please stop trying to sound cool.
• Don't be a stalker
◦ Your family probably loves you, but don't overdo it.
• Do ask before you tag
◦ It's polite to ask someone's permission before tagging them.
• Don't comment on everything
◦ But if you do, remember to keep it positive.
• Do be selective
◦ Only post about the important stuff!
• Don't embarrass your kids
◦ Avoid: embarrassing stories, awkward photos, and personal details about our lives.
• Do avoid backhanded compliments
◦ They will only get you into trouble.
• Don't be afraid to 'untag'
◦ Maybe you don't like certain pictures of yourself. That's ok!
To make sure you're getting the most out of social media:
• Check into some classes or online sources
• Make a checklist of what you want to accomplish with your online presence
• Ask your kids for advice. For once, we know what we're doing!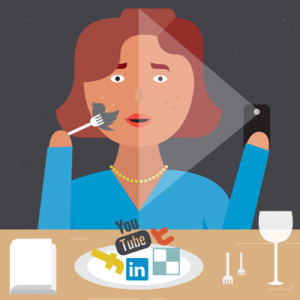 Sources:
http://www.pewinternet.org/data-trend/internet-use/latest-stats/
http://www.marketwatch.com/organizations/Pew_Research_Center?lc=int_mb_1001
http://www.babyboomerlifeboat.com/articles/baby_boomer_facebook_ettiquette_article126.htm
http://expandedramblings.com/index.php/by-the-numbers-17-amazing-facebook-stats/#.UzwizfldVa8
http://www.statisticbrain.com/twitter-statistics/